Cvent-1200T
The next generation of intelligent ICU ventilators
The right ventilator for your requirement Adult, pediatric and neonatal ventilation
Find the right ventilator to suit your clinical care setting. Our devices offer advanced features to care for even the most complex patients, and different levels of mobility for use on the go or where space is limited.
Cvent-1200T
All Intelligence Leads to Ease
A high-end ventilator featured with 12.1 inch screen, combines an intuitive customized UI with powerful assistive tools and modules. In the modern busy clinical environment, ease of use is a fundamental requirement for all medical devices.
Features
Tidal volume from 2ml to 2000ml (Neonatal,Pediatric,Adult)
Invasive Modes:VCV, SIMV-VC, PCV,SIMV-PC, PSV, CPAP+Apnea Backup, APRV, PRVC, SIMV-PRVC
Non-Invasive Modes: BiPAP, BiPAP-S, BiPAP-ST,HFNC/O2 Therapy
More than 180 minute battery backup
Waveforms : P-T, F-T, V-T Loops : P-V, F-V
Pressure control and volume guaranteed with PRVC
Automatic leakage compensation
Lowest in class bias flow 2.0 L/min, Low o2 consumption
Selectable apnea back up ventilation (Volume or pressure type)
Automatic Tube & leakage compensation technology
Fixed reusable flow sensor hence no daily recurring cost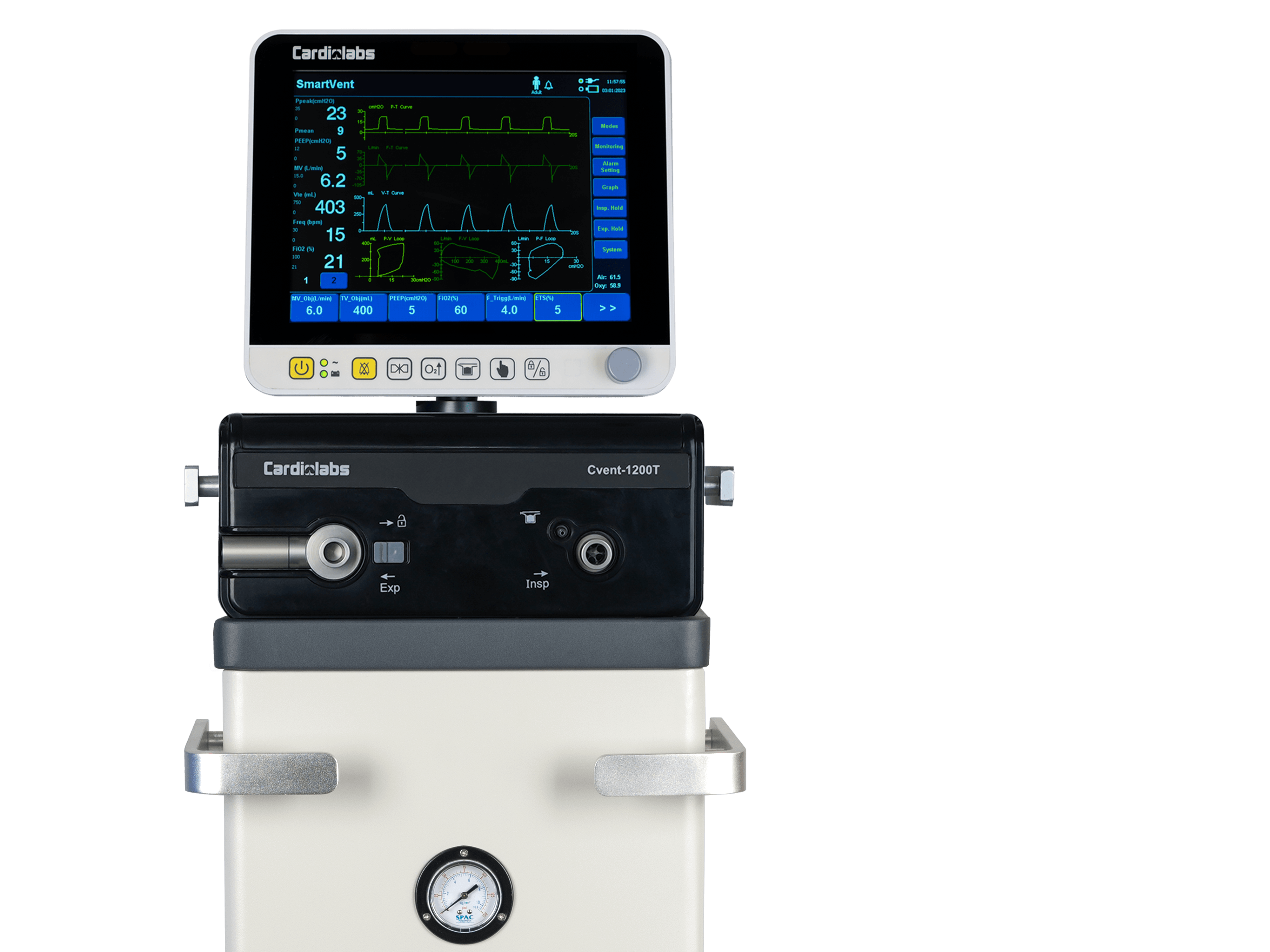 Big screen.Important ventilation data at a glance
10.4" touchscreen displays waveforms & loops simultaneously
72 hours trends
Over 30 Monitering parameters
Diffrent colour indication for Controled & Triggered Breath
Featuring a wide range of diagnostic tools